There is no question in my mind what my absolute favorite activity on Wii Fit is: Running on Wii Fit Island. So far, I've opened up the Short Run, the Long Run, Island Lap and Free Run. With Free Run, I can run for 10-30 minutes without stopping.
When I first started working out with the Wii Fit, I was worried that I wouldn't really be able to get a good cardio workout. The Aerobics activities were intense enough to get my heart rate into the high range, but they were only a few minutes long. With the addition of Free Run, however, I can get a REAL aerobic workout and enjoy the scenery of Wii Fit Island.
Here is a video of the Short Run: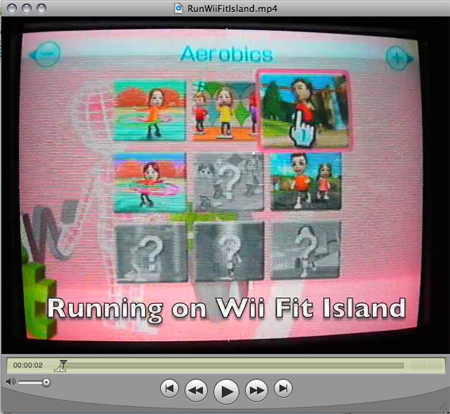 This video only shows you a small part of Wii Fit Island. Here is a map of the running trails:
Anyone familiar with the Nintendo/Mario Universe will recognize many little in-jokes and familiar sites. Wii Fit Town looks a lot like Delfino Square and the run through Rocky Peak is very much like a Mario Kart drive through Choco Mountain (try to see the choco boulders falling off the cliffs).
Everything that I wished for in that Island Worlds program, has come to pass in Wii Fit with the Basic Run and Free Run activities. They're better, in fact, because I'm running with my Miis. Every time I pass a Mii that we created, it feels like I'm out exercising with my friends. If you watch carefully at the end of the video, Mike is waiting for me at the end of the run. Just seeing that one of my friends is ahead of me while I'm running makes me run a little faster to catch up to them.
Previous: Ask Laura: Plantar Faciitis
Next: Toad in the Hole

64 Responses to "Running on Wii Fit Island"
Leave a Reply
-