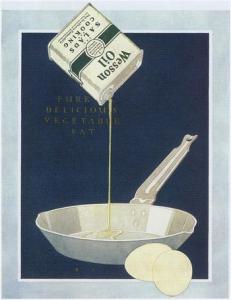 When I saw this advertisement, I laughed at the description: Pure Delicious Vegetable Fat. Sure, adding fat to your food can enhance the flavor, but do any of us consider Wesson Oil to be delicious?
I love to look at old advertisements because they seem so wrong. It makes me feel smart and I think that I am impervious to advertising. Then I look at the current ads for Wesson:
They are STILL using the same "delicious" advertising that they used back then:
Pure Wesson Cooking Oils have been at The Heart and Soul of Good Food for 100 years. Pure Wesson Cooking Oil provides fried foods with a crispy, golden outside and a juicy inside, while allowing the cook's own seasoning to shine through. Great chefs agree and recognized Wesson with the American Tasting Institute's Gold Medal Taste Award in 2001.
Oh?! They won an award?! Well then, they MUST be delicious.
The truth of the matter is that we need some healthy fat in our diet. Canola oil, which is one of the oils that Wesson sells, is a method of adding that healthy fat. I don't need an advertisement to tell me that and I certainly don't need the mom from the Brady Bunch telling me that it's "All Natural."
If you can't sell me the oil, how about the bottle?
In the end, companies are trying to sell us their food by any means possible. Next time you see an ad to the TV or in a magazine, remember that.
Photo via: Found in Mom's Basement: Vintage Art Deco ads for Wesson oil, 1920s