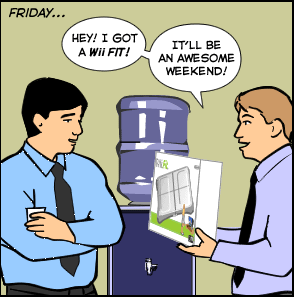 It's rare when I laugh out loud at anything. I love to read comics. Most of the time, I chuckle happily to myself at them, but this comic from Joy of Tech made me literally laugh out loud.
When the Wii Balance Board turned my Mii into a short and bloated character, I seriously thought the same thing. Yes, I know I'm fat. Why do you think I bought the Wii Fit in the first place?!
Other than that, I've LOVED the Wii Fit. I'll write a full review for it when I've finished working out with it for a week.
Previous: PostSecret: My Body In Small Pieces
Next: Biggest Loser Diet Turns Deadly?

2 Responses to "The Joy of Tech Gets a Wii Fit"
Snaggy Says:
May 30th, 2008 at 9:44 am

Thanks Laura!

We just picked up a Wii Fit … so far, we think it's great too (despite the blow to my Mii's ego.) 🙂

iportion Says:
May 30th, 2008 at 11:23 am

That would be fun 🙂
Leave a Reply
-