We got a double-dose of PostSecret this week. Frank has created a Facebook group and is posting bonus secrets there for us to see. You can become a fan of PostSecret here:
Here is a bonus secret that showed up on the Facebook profile: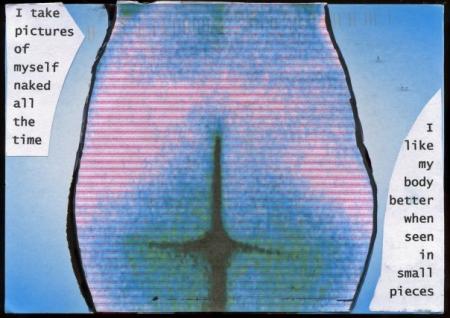 It reads:
I take pictures of myself naked all the time.
I like my body better when seen in small pieces.
I have never taken a picture of myself naked. As much as I approve of NakedJen and her message about our bodies, I have never participated in naked picture taking.
I like to think that even if I had a perfect body that I would still keep that part of myself private, but I've never had a perfect body, so I don't really know. Maybe if I was gorgeous, I would be an unashamed exhibitionist, but instead I hide behind my clothes.
---
PostSecret's beneficiary is the National Hopeline Network. It is a 24-hour hotline (1 (800) SUICIDE) for anyone who is thinking about suicide or knows someone who is considering it.
Previous: PostSecret: Speedos
Next: The Joy of Tech Gets a Wii Fit

Leave a Reply
-