This postcard from PostSecret showed up last Sunday.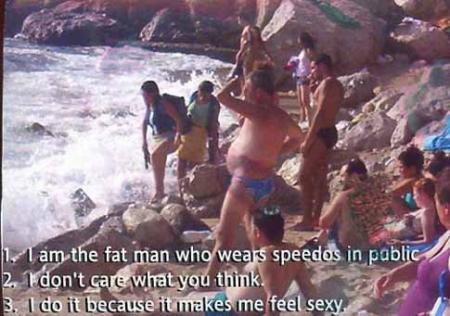 It reads:
I am the fat man who wears speedos in public.
I don't care what you think.
I do it because it makes me feel sexy.
All I can say is, "RIGHT ON, BROTHER!" I haven't worn a bikini since I was six years old because I am scared of what the world would think. It looks like I have some more Inner Workouts to do.
---
PostSecret's beneficiary is the National Hopeline Network. It is a 24-hour hotline (1 (800) SUICIDE) for anyone who is thinking about suicide or knows someone who is considering it.
Previous: Wii Fit: First Look
Next: PostSecret: My Body In Small Pieces

Leave a Reply
-