After a lengthy quest all throughout the city, Mike and I finally found a Wii Fit. I set it up and it told me that I was fat (I knew that already) and made my poor little Mii character a short and pudgy icon after weighing me. I had no idea that the Wii Balance Board was also a scale, but it doubles in that capacity. When compared to my high-tech digital scale in the bathroom, it reads quite accurately.
The first time we played with the Wii Fit, I forgot to wear my heart rate monitor, but I did get a good sweat on. The most fun Balance game to play was the Soccer Heading. You can see a video of it here: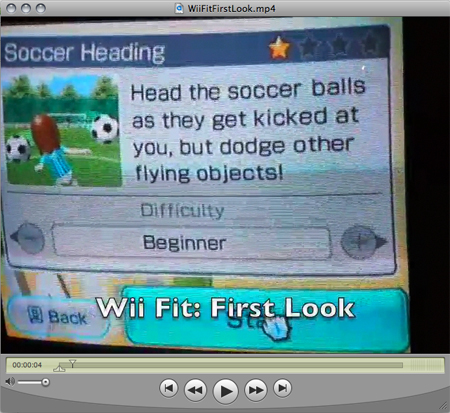 We had plenty of laughs while I tried to dodge the soccer cleats and panda heads. I will be working out with Wii Fit for the next couple of weeks and give you more feedback about how many calories I burn while playing and how effective a workout it is.
Previous: Attitude Is Everything
Next: PostSecret: Speedos

6 Responses to "Wii Fit: First Look"
Leave a Reply
-