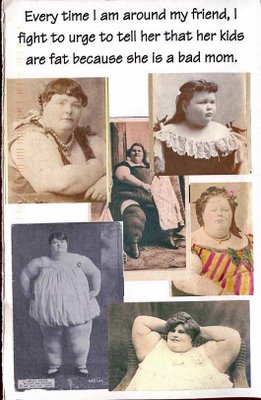 This postcard from PostSecret showed up last week.
I am continually fascinated at how judgmental mothers are. From potty training to discipline to eating, it seems that mothers are eager to judge each other with ferocity. Since I've never had children, I don't find myself judging other women in this manner, so I can watch it from the outside.
If a child is fat, are the parents to blame?
That's an interesting question. If a child is tall, are the parents to blame? I wonder why we are so willing to blame the parents with one direction of growth and not the other.
---
PostSecret's beneficiary is the National Hopeline Network. It is a 24-hour hotline (1 (800) SUICIDE) for anyone who is thinking about suicide or knows someone who is considering it.
Previous: Quote of the Month: May 2008
Next: Hard Body Videos for Harder, Better, Faster, Stronger

7 Responses to "PostSecret: Fat Kids, Bad Mom"
Leave a Reply
-