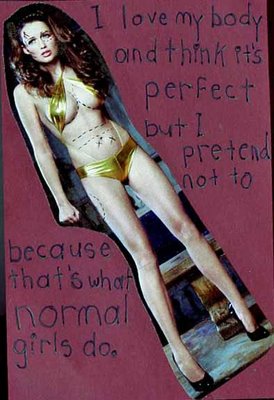 This postcard from PostSecret showed up a couple of weeks ago.
I love my body and think it's perfect, but I pretend not to because that's what normal girls do.
STOP IT!
If you say something enough times, you begin to believe it. Keep your perfect body and throw the false modesty out the window.
---
PostSecret's beneficiary is the National Hopeline Network. It is a 24-hour hotline (1 (800) SUICIDE) for anyone who is thinking about suicide or knows someone who is considering it.
Previous: Public Transportation Mocks Little. Yellow. Different.
Next: Activia Yogurt

Leave a Reply
-