The FTC has filed suit against Medlab, Inc., Pinnacle Holdings, Inc., Metabolic Research Associates, Inc., U.S.A. Health, Inc., and L. Scott Holmes. They are charged with violating Sections 5 and 12 of the FTC Act by making false and unsubstantiated claims that their product causes users to lose substantial amounts of weight rapidly.
Here are the names of the products that the FTC has sued:
Zyladex Plus
Questral AC
Questral AC Fat Killer Plus
Rapid Loss 245
Rapid Loss Rx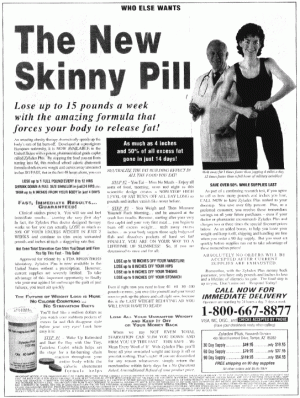 Their advertisements were in newspapers (see advertisement to the right). They made the following promises:
Lose as much as 15 to 18 pounds per week
Lose 50 percent of all excess weight in just 14 days, without dieting or exercise
Clinical studies prove those claims
Their product causes permanent or long-term weight loss
As typical for weight loss ads, those claims weren't true and the FTC is working on shutting them down.
Just because the FTC has sniffed out these folks doesn't mean you are safe. If any ad promises that you'll lose weight quickly without exercise or diet modification, then they are suspect. Don't spend your money on them.
Previous: Gym Girl Running Skirts
Next: Curves Cereal

One Response to "FTC Sues More Weight Loss Pill Manufacturers"
Fitness Guy Says:
April 12th, 2008 at 8:45 am

I had not seen these ads. As ridiculous as they seem some people will always believe them. I don't think these quick hit weight loss miracles will ever end.

Lets hope that over time people get more interested in becoming healthy and work to improve their lifestyle instead of trying to fight the scale.
Leave a Reply
-