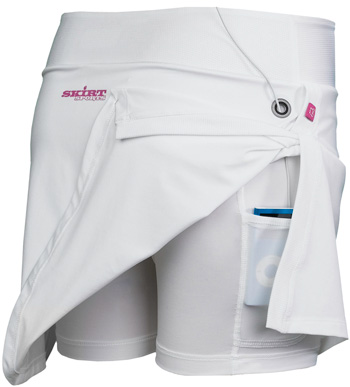 I have talking about running skirts in the past.
Back then, my biggest problem with RunningSkirts.com was the fact that their skirts didn't have anything to protect my inner thighs (just a panty underneath). Since then, they have added skirts with shorts underneath for protection.
I was told about a new company who is also making running skirts (shown to the right). They have inner thigh protection and a place for your iPod:
Now, my only problem with BOTH companies is that the skirts are sixty bucks a piece.
When I can get gym capris from Russell for about fifteen bucks, why would I go to the expense of spending four times that for running skirts? I know they're really cute and they might be something sexy to wear at the gym if I were trying to attract a mate, but how sexy can you really look when you're working out?
It only takes about ten workouts until most of my exercise clothes are looking ratty anyway. That's six bucks a workout, which is over my Five Buck Workout rule.
I love running skirts. I think they're adorable, but there is no way I would spend $60 for one.
Update 04-12-08: Here are a couple of skorts from other clothing companies on Amazon that range in price from $10-$20.
Previous: BBC Program Horizon Covers the Atkin's Diet
Next: FTC Sues More Weight Loss Pill Manufacturers

11 Responses to "Gym Girl Running Skirts"
Leave a Reply
-