The very wonderful Found in Mom's Basement uncovered these advertisements for AYDS weight loss plan: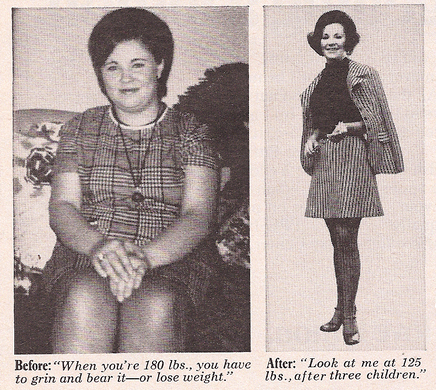 The most heartbreaking thing is how pretty Shirley is in her before photo. She was beautiful before and losing weight didn't change that.
I remember the commercials on television for AYDS. My mom even tried them. They were little chocolate candies that you were supposed to eat before you ate your meal. They were supposed to curb your appetite. I snuck some from my mom's box and thought they tasted delicious. My mom never lost weight with them, however.
She is svelte and thin now and has been for almost twenty years. How did she do it? She eats less and exercises regularly. No fad diets and no chocolate-flavored appetite suppressant candies.
Companies have been trying to profit off our desire to be thin for over a century now. The diet pills and potions are just as useless now as they were back then. Don't give them your money.
Previous: Candy Ban In Schools
Next: BBC Program Horizon Covers the Atkin's Diet

10 Responses to "AYDS Weight Loss Plan"
Leave a Reply
-