Something about Paul McKenna smacks of charlatan to me. I don't know what it is, but he doesn't seem like someone I want to trust. He has a new show on TLC and here are some highlights from the first episode.
The thing that bothers me is how much this show feels like an infomercial. The clapping at the "appropriate" times and the weighing of the studio audience really feel like parlor tricks to me. The before and after pictures and the pants from a previous life are all the same things I've seen before.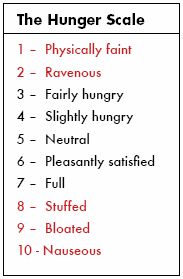 I have no disagreement with what he is saying. He recommends the same things as I have been saying:
When you are hungry, EAT.
Eat what you want, not what you think you should.
Eat CONSCIOUSLY and enjoy every mouthful.
When you think you are full, STOP eating.
He uses the SAME hunger scale that Weight Watchers uses. I don't know where this scale originated, but it isn't anything revolutionary.
Because he is recommending the same views about food that I have, I really WANT to like this guy, but something about him sets off my B.S. Detector. I can't put my finger on it, but I don't want to believe in anything he says, even when he's preaching common sense.
Via: TLC's "I Can Make You Thin" with Paul McKenna Video | TV Crunch
Previous: Ask Laura: Nutrition Scale
Next: PostSecret: The Three Forks Enigma

23 Responses to "Paul McKenna"
Leave a Reply
-