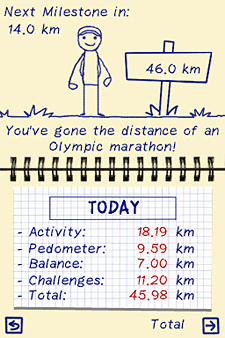 Ubisoft creates fun learning games for the Nintendo DS, such as My Word Coach, My Spanish Coach and My French Coach. Now, they are turning their eye to health and fitness with My Weight Loss Coach.
My Weight Loss Coach features include:
Personal Profiles: Create your personal profile and evaluate your improvement potential, then set up your objectives following the recommendations based on your personal profile.

Input Reward System: Log your progress on a daily or weekly basis, tracking your physical activity and nutrition habits.

The Pedometer: A peripheral device that comes with the game and can be easily updated through your DS, it's the best way to control your daily physical effort, challenge yourself and balance your food intake.

Real-Life Landmark Checkpoints: As a reward, all the physical activities you achieve and good nutrition habits you acquire are converted into measurable distances based on real examples.
To see more screen shots, click on over to DS Fanboy's gallery:
Sadly, we have to wait until summer to get a closer look at this game. Maybe by then we'll be to our goal weight.
Via: Littlest, Yellowest, Differentest – DS Fit: Ubisoft announces My Weight Loss Coach
Previous: Another Healthy Valentine's Day
Next: Leonard Nimoy's The Full Body Project

One Response to "Ubisoft Announces My Weight Loss Coach"
Ernie Says:
February 15th, 2008 at 8:47 am

I'll buy it! 😉
Leave a Reply
-