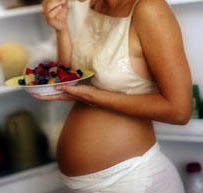 Many weight loss facilities don't allow pregnant women to participate in their programs. I know Weight Watchers will keep your membership active, but won't allow you to come when you're pregnant. That seemed a little crazy to me and I wondered why they didn't just up the points allowance a bit to compensate.
Here's why:
In 1944, Germany starved the Netherlands with an embargo. Many starved to death and the women who were pregnant during the embargo were restricted to approximately 1000 calories a day. The children born at that time ended up with a high incidence of addiction.
We still don't know why, but theories abound:
This heightened risk was most strongly correlated with exposure during the first trimester, when crucial brain development occurs. It is not clear exactly how starvation predisposes the brain toward addiction. One possibility is that decision-making and reward centers of the brain do not grow properly because there is a dearth of chemical resources. Another possibility is that the fetus senses the scarcity of food and comes out prepared to voraciously grab whatever pleasurable things that it can find.
So, if you're pregnant, you shouldn't be restricting your calorie intake. Follow the recommendations that your doctor gives you and worry about losing weight AFTER you give birth to a healthy and unscathed child.
Previous: Can You Be Sexy And Fat?
Next: New Year's Resolutions: Week 7

5 Responses to "Pregnant? Don't Diet!"
Leave a Reply
-