Hey! I just started reading your blog, and I love it! I went and read most of your archives this weekend. I have a dilemma that I would love your advice about!
I am overweight and I started eating right and exercising two weeks ago. So far it's going really well. Yesterday I jumped rope for two 10 minute sessions and today my left calf is really sore. I can walk fine, but if I try to move my foot I can feel it. I'm a teacher, so I stand all day and it got worse throughout the day.
I want to keep exercising so I don't lose momentum, but I don't know much about sore calves. Is this something I should work through and walk tomorrow, or should I give it a rest for a few days? Is it supposed to hurt, or is it a sign that something's wrong? I was hoping to walk on the treadmill tomorrow after work, but I don't know what's a good idea and what's stupid.
I know you're not a doctor, but as a runner you have way more experience with this type of stuff than I do after two weeks.
Thanks for any help you can give me!
Stephanie
---
Stephanie,
You're right, I'm not a doctor, so visiting one might be a good idea if the pain becomes any worse.
That said, I have dealt with a lot of calf pain and shin splints (the front muscle of your lower leg). Fortunately, the stretch for both of them is the same. I dealt with this pain a lot when I first started exercising.
My first recommendation is to start slowly. Jumping rope, even if it's only for 10 minutes is REALLY intense for a beginner. I recommend walking. At first, you are building muscle, so you probably won't get a good cardio workout. Go to my New Year's Resolution: Week 1 and start there with your walking plan. It will prevent you from getting sore: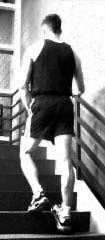 In addition to taking exercise slowly in the beginning, you need to stretch those muscles. There has been a lot of talk about stretching and how it might not be as helpful as once thought. I don't know what medical science has found. All I know is the days when I stretched before and after my walks, I wouldn't hurt as much the next day. The days when I forgot (or was in a hurry and skipped it), I paid for it in pain. Here is an entry explaining how to stretch your calf muscles:
It took a couple of weeks of regularly doing that stretch in addition to my exercise for the pain to ease off. I wanted to keep exercising, but I didn't want to hurt myself and this was the only way that I found that worked for me.
I wish you the best and please come back to Starling Fitness and tell me how it works for you over the next couple of weeks.
Happy Walking,
Laura Moncur
Starling Fitness
---
Update 01-25-08: Video Jug has this video showing how to deal with cramps or spasms in the calf:
Previous: New Year's Resolutions: Week 4
Next: Stretching Video from Video Jug

4 Responses to "Ask Laura: Sore Calf!"
Leave a Reply
-