The rice cooker has been a boon to eating healthy for me. Honestly, cooking rice on the stove top is difficult. Most times, I would end up with a sticky glue instead of fluffy rice. Brown rice and other whole grains are even harder. Now, I just cook up three to six servings of rice, divide them up into Ziploc bowls and put them into the refrigerator to eat in a myriad of ways.
Here is one of my favorites: Mexi-Rice
1/2 cup pre-cooked brown rice – 140 calories – 3 points
1/3 cup canned dark red kidney beans (drained) – 100 calories – 2 points
1 cup canned diced tomatoes – 25 calories – 0 points
1/4 teaspoon oregano
1/4 teaspoon dried onion
Smidgen of dried chipotle peppers
Optional additions: Two sprigs of fresh cilantro and/or a few drops of Tabasco sauce.
Total: 265 calories – 5 points
These are the ingredient sizes for one serving. It's a HUGE serving, so you might want to cut everything in half if you have a small appetite.
Put all the ingredients in a bowl and microwave for 2 minutes. Mix together and add the fresh cilantro and Tabasco sauce for extra flavor.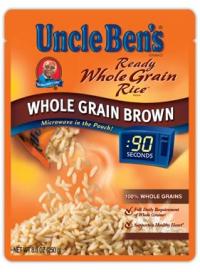 If you are following the Weight Watchers Core Plan, this is also a Core Food. It counts as one serving of whole grains, one serving of lean protein and two servings of vegetables.
If you don't own a rice cooker or know how to make brown rice on the stove, you can purchase pre-cooked packets of brown rice from Uncle Ben's. It's not quite as good as making it yourself, but it's really easy.
If you try this recipe, please leave comments here about how you made it better. Considering how horrible a cook I am, I'm SURE there are ways to make it better!
Previous: New Year's Resolutions: Week 3
Next: Healthy Recipe: Milk Shake

3 Responses to "Healthy Recipe: Mexi-Rice"
KT Says:
January 18th, 2008 at 8:33 am

I do a similar rice thing, but I change it out a bit.

For me it's 1/2 cup rice – 3 points 1 diced tomato – 0 points 1/4 cup 2% cheese – 2 points 1/4 cup diced onion – 0 points 1/4 cup mushrooms – 0 points mustard, A-1 sauce, Worcestershire's sauce

I cook the onion and mushrooms in a small pan with the sauces for a few minutes while the rice cooks, then mix the whole thing together in a bowl.

Ernie Says:
January 21st, 2008 at 5:33 am

Laura,

I used eTools and calcalated the Points for this recipe as less than you thought! You know what brand of rice and beans you used, so you know the specific nutitional information.

But here's how I Pointed it out:

1/2 cup pre-cooked brown rice – 2 points 1/3 cup canned dark red kidney beans (drained) – 1 points 1 cup canned diced tomatoes – 0 points 1/4 teaspoon oregano – 0 points 1/4 teaspoon dried onion – 0 points

That's 3 Points for the whole dish, which means that there's plenty of space for some chicken or beef.

Thanks for the recipe! I plan on trying it soon.

Laura Moncur Says:
January 21st, 2008 at 8:10 am

Ernie,

Good catch! I forgot to calculate the fiber into these and just did a quickie estimate. Because of the fiber they ARE lower than I originally calculated.

Thanks! Laura
Leave a Reply
-