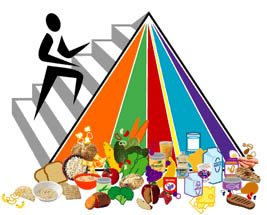 When the USDA came out with their new food pyramid, they got a lot of flack. I even chimed in with my paranoia.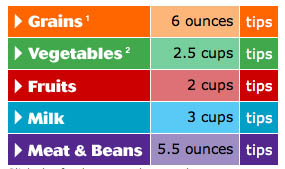 I've been looking at their recommendations to see what is a good plan to recommend for all the New Year's Resolution people and it actually looks like something pretty reasonable. They recommended the following for me:
Grains: 6 oz.
Vegetables: 2.5 cups
Fruits: 2 cups
Milk: 3 cups
Meat and Beans: 5.5 oz.
They recommend 2000 calories a day, which translates to about 40 Weight Watcher points a day. That seems like way more than WW recommends for me, but when I include my Flex Points and the added exercise points, it's about the same.
Sure, the USDA Food Pyramid was made by a government agency that monitors food sales, but this food pyramid seems to be right where they need to be.
If you are looking for a reasonable eating plan that will help you lose weight the healthy way, then put in all the information on the MyPyramid Plan on the USDA's site and see what they recommend for you. It's free and you will have a plan that's tailored to your height, weight and sex.
Previous: PostSecret: Alone
Next: Ike Berger's Power Shaper

Leave a Reply
-