I saw this postcard from PostSecret this week and I didn't know what to think of it.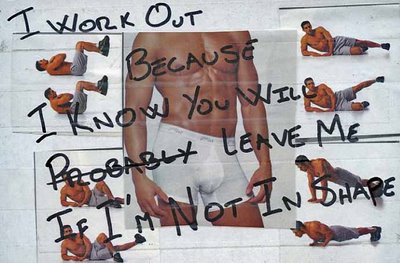 He works out and stays fit. That's a good thing. She'll leave him if he doesn't? That's a bad thing, right? Yeah, but then again, it's keeping him healthy.
This just doesn't feel right, even though in the end, he is a healthier person.
---
PostSecret's beneficiary is the National Hopeline Network. It is a 24-hour hotline (1 (800) SUICIDE) for anyone who is thinking about suicide or knows someone who is considering it.