This photo from I Can Has Cheezburger? made me realize how silly it is to compare myself to the models in fashion magazines.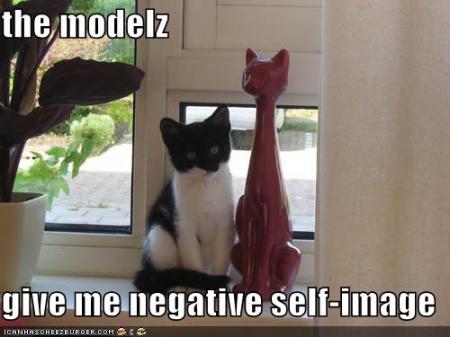 That little kitten is PERFECT. We all are wonderful and perfect and comparing ourselves to an image, whether it's the models in magazines, the concept of the perfect parent or even a ceramic likeness, is just wrong.
We can always strive to be better, but stop comparing yourself to anyone. Be better than you were yesterday. THAT'S the only comparison you should be making.
Previous: I'm Addicted To Overeating, NOT Food
Next: Shoveling the Walk

3 Responses to "The Modelz Give Me Negative Self Image"
Misty Says:
December 7th, 2007 at 10:58 am

This is probably just an oversight, but I know for me it would probably be the start of slipping on my committment…..you didn't put your picture up with this post 🙂

Though I know you aren't at your goal weight, I think you're very lovely, and in a way it's comforting that someone like you still needs work too 🙂

iportion Says:
December 7th, 2007 at 1:23 pm

I want to hold the kitten than the statue. While I find nothing wrong with models I feel that they need to be more shapes and races.

lovelines Says:
December 13th, 2007 at 3:45 am

HAHA that's perfect!
Leave a Reply
-