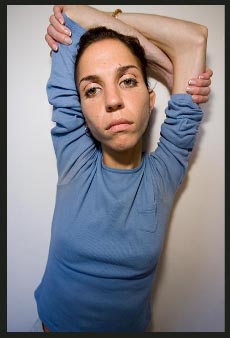 I feel a certain companionship with anorexics. I have never been able to starve myself, but I feel like there is some connection between anorexia and bingeing disorders. Recent research shows that anorexics don't react to sugar the way "normal" people do.
While the view of anorexia as an addiction is intriguing, there are other possible physiological explanations for the disorder. Dr. Angela Wagner performed an experiment to study the reactions of 16 recovered anorexics to sugar. Recovered anorexics were chosen to avoid the confounding psychological factors that might be present in still-struggling subjects. Recovered anorexics took the sweet drink without protest, but an MRI revealed that while their behavior may have returned to normal, their brains have not. Compared to the control subjects, there was much less activation of the insular cortex, especially the primary cortical taste region. This suggests the possibility that rather than missing meals to feel high, anorexics don't eat because they simply find normally pleasant tastes less appealing.
If anorexics don't find food as appealing as "normal" people, then could it be possible that I find it MORE appealing? This seems like very important research, but the sample size of sixteen participants is so small that I can't really trust the conclusions.
I'm hoping for more research along these lines.
What do you think? Do we overeat because food just tastes better to us?
Previous: Harder, Better, Faster, Stronger
Next: I'm Not A Runner

5 Responses to "Anorexics May Have Altered Sense of Taste"
Leave a Reply
-