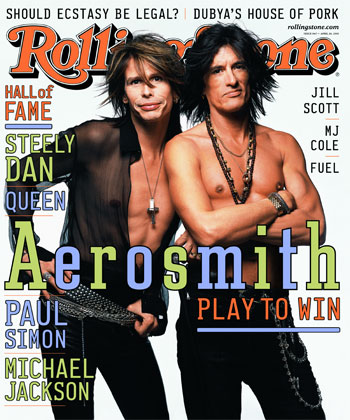 Steven Tyler is the lead singer of Aerosmith. He's known for his thin frame and big lips. This weblog assumes that Steven Tyler has an eating disorder.
He is quoted:
"I have to watch what I eat because I have this ongoing nightmare that I'm going to put on weight and end up looking like some of the other rock stars of a certain age who bounce around the stage. You look at them and think, 'Oh my God, what happened to you? How did you let yourself get like that?' I always call Joe Perry, my bandmate, and say, 'Do you still weigh 145 pounds?' "For God's sake I still want to be able to fit into those pants I wore on the last tour. I just live by the motto that nothing tastes as good as being thin feels. I don't eat regularly during the day and in the evening I tend to stick to wild salmon and broccoli. Every night before I get into bed, I do 250 sit-ups religiously."
He exercises. He eats fish and vegetables. He works hard to stay fit, but the gossip rags assume he has an eating disorder.
Is this right?
Previous: Question of the Week: How do you NOT eat?
Next: The All-Bran 10 Day Challenge

12 Responses to "Does Steven Tyler Have An Eating Disorder?"
Leave a Reply
-