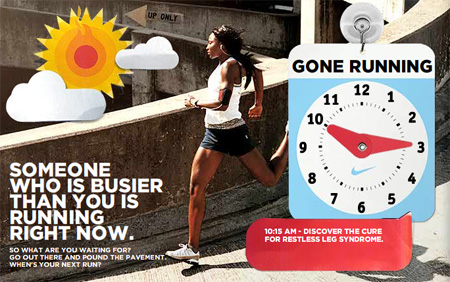 I saw this ad at the mall the other day and didn't realize it was an advertisement for Nike.
I have a love-hate relationship with Nike. I hate that they only carry uber-small clothing sizes. I hate their website. I love their watches. I love their advertising. I love Nike+.
There's nothing better than a motivating Nike Commercial to get me running:
My new mantra is: someone who is busier than you is running right now. No excuses for skipping my workouts.
Previous: The Road to Recovery For SLB+
Next: The Garmin Forerunner 50

6 Responses to "Someone Who Is Busier Than You Is Running Right Now"
Leave a Reply
-