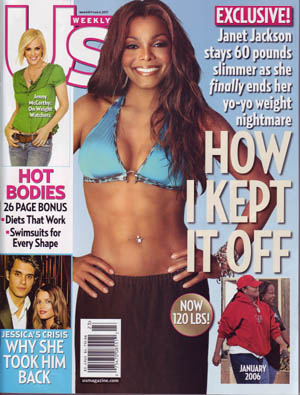 Last year, Janet Jackson shocked all of us by losing 6o pounds in four months. I talked about it here:
She has been able to keep the weight off for a year and according to the cover of the magazine, she will share her "secrets" with us.
What's her secret?
Eating light and clean helps, but you really shouldn't think of it as a diet, otherwise you feel like you are depriving yourself. If you crave something, you should have a little bit of it, then let it go and move on. Do a little extra exercise so you're back on track.
She exercises six days a week doing cardio mostly. She has toned down on the weight training because she has injured her rotator cuff, so any workout that affects her shoulder has been cut out of her routine.
From the example menu and workout list, it looks like she is keeping things REALLY light in order to keep her size four frame.
I have to admit that seeing her look so good after a whole year is really inspiring to me. I think to myself, "Janet has been fighting this her whole life. If she can do it, then I can too." Personal trainers and chefs? The fact that she has access to them doesn't change my level of inspiration. I can plan my own meals. I can create a workout.
I really believe that 90% of weight loss happens in my head and the other 10% is what I do on the treadmill or put in my mouth. When I decide that it's possible, nothing can stop me. When I decide that it's hopeless, nothing can help me. Just seeing how well Janet has been able to keep off the weight really helps me get that 90% back into gear.