I have just completed my best walking video EVER. It is an hour and a half long, so it will last you through your longest workout. The day was absolutely perfect, so the sky was beautiful, the people were friendly and the filming was clear and steady.
I always felt embarrassed a little bit by the Swami's Beach video that I did last year. It was filmed with an inferior camera and it was one of the first videos I finished. It has been hands down the best seller, but I cringed whenever I sent it out. This year's Swami's Beach Walk is the culmination of all that I have learned and gorgeous kismet during filming.
Here is a glimpse of what the video looks like: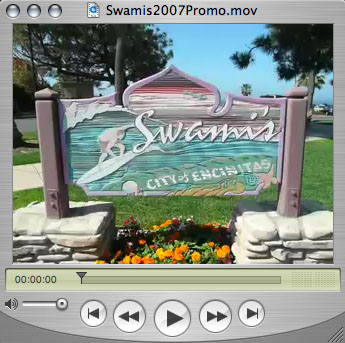 I wore my Nike+iPod while I did this walk. It logged a total of 4.5 miles, but I'm more willing to believe the Google Maps measurement:
Estimated Distance: 3.31 miles
Estimated Speed: 2.2 mph
Time: 90 minutes
I'm offering this workout DVD for $5 plus shipping.
Order Starling Fitness Walking Videos Here
You can see the route I walked here: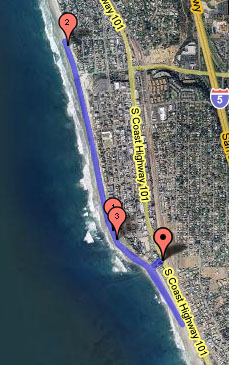 Video Description:
You've walked this beach before, but today is different. The people are friendlier, the sky is bluer and the tide is higher. The tide is so high, it blocks the way of your usual route, so this time you head south. Pass the joggers and the kiddie beach. The wind, helicopters and jet engines cannot drown out the sound of the ocean.
Feel the cold water as the tide nips at your feet. Run away from it like the little white birds. The water in the air smells like sprinklers on a hot day. Pant your way up the stairs and bid the ocean one final goodbye before you end your workout.
Previous: Food Snobbery
Next: Heart Rate & Accelerometer Control Video Game

6 Responses to "Starling Fitness DVD: Swami's Beach Walk 2007"
Leave a Reply
-