Nike+ has started a group event that bugs me. It's called the Run Like NYC Challenge.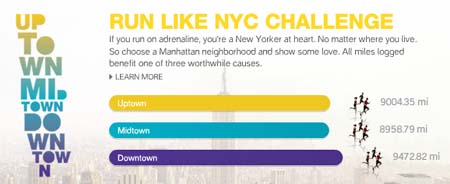 You're supposed to pick a 'hood and run. Coming from someone who doesn't live in New York, I DON'T CARE. It actually makes me kind of angry how New York centric the world is. Do we really need ANOTHER event focusing on New York?! I live in SLC. I don't care whether Uptown, Midtown or Downtown win. I want to run for SLC.
How hard would it have been to have a run for your state challenge instead? It certainly would have been more inclusive, if not USA centered.
This is the sort of thing that happens when all your employees work in one city. Stupid stuff like the Run Like NYC Challenge happen.
Most of you don't live in New York. Do you care which 'hood wins? Does this challenge make you want to join up?
Just makes me want to punch something. Bad form, Nike, bad form…
Previous: Don't Get Caught In The Cream-Filled Lies
Next: Question of the Week: What do you see?

4 Responses to "Pick A 'Hood"
-