I wrote before about this advertising campaign in Utah.
They STILL don't get it and have paid to move all the billboards around to different places. I have since been able to get photos of the other two: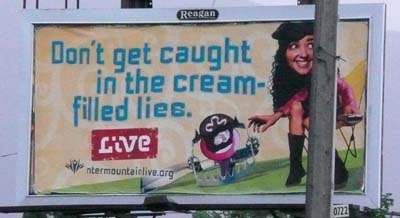 This is what happens when people who don't really understand what it takes to be healthy design advertising campaigns for health. It's not the creme-filling. It's not the cupcake. It's the fact that I ate three or four cupcakes in one sitting. It's not the food, it's the quantity.
A cupcake every once and a while is just fine. It's when it's a habit that it becomes dangerous for me. They're not creme-filled lies. They're just food. It's my lack of control over the food that's the problem, not the food.
This one makes a little more sense, but it's still offensive. Eating treat foods in moderation are just fine, but super-sizing your food and eating fries on a regular basis could be a problem. I know it's hard to gain weight eating too many carrots, but the fact is, these foods are part of our lives. We need to learn how to incorporate them into our diet AND be healthy.
Creating a stigma regarding certain foods, merely creates a Good Food – Bad Food dichotomy in my mind. When I'm feeling negative, I end up eating too many Bad Foods. If I can knock down the idea of Good Foods and Bad Foods, I end up eating a lot healthier.
Bad form, IHC, bad form…
Previous: The Fit Flop: How About Just Flop?
Next: Pick A 'Hood

One Response to "Don't Get Caught In The Cream-Filled Lies"
iportion Says:
June 9th, 2007 at 7:33 pm

It really makes bad foods look good like the anti smoking ads put out by cigarette manufactures
Leave a Reply
-