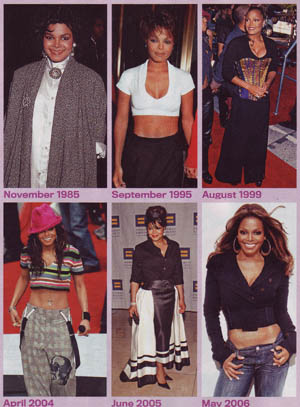 Janet Jackson was in US magazine again this year because she kept the weight off after losing 60 pounds in four months last year. Seeing her weight loss pictures really inspired me to do better.
But I hear from the "experts" all the time that continued exposure to photos of beautiful people makes young girls depressed and anorexic. I don't quite know where they are getting their data for these assumptions, but it does make me wonder if I'm the weird one.
Do weight loss photos inspire you or depress you?
Do photographs of thin people make you want to eat healthier?
Do you cut out pictures of people who have the physique that you want?
Do you keep a book of these photographs to look at when you feel like eating poorly?
I feel like the photos inspire me. I keep a book, but I haven't added to it in a long time. I haven't even looked at it in a long time. I even had photos of what I wanted my hair to look like. I was finally able to get my hair to be "perfect" only to realize that it wasn't worth 45 minutes of my time EVERY day. Now, I live with crazy curly hair and use the extra 45 minutes to write more. It makes me worry that weight loss might be the same.
Previous: Janet Jackson Keeps The Weight Off For A Year
Next: Eat Less Meat And Save The Environment

7 Responses to "Question of the Week: Do weight loss photos inspire you or depress you?"
Leave a Reply
-