The San Antonio Botanical Garden Walk DVD is finished and ready for you! It is a little over 1 hour of walking on the San Antonio Botanical Garden on September 15, 2006. If your treadmill workouts have been getting you down and you are wishing for greenery, this is the right video for you!
I'm offering this workout DVD for $5 plus shipping.
Order Starling Fitness Walking Videos Here
Here is a glimpse of what the walk will be like: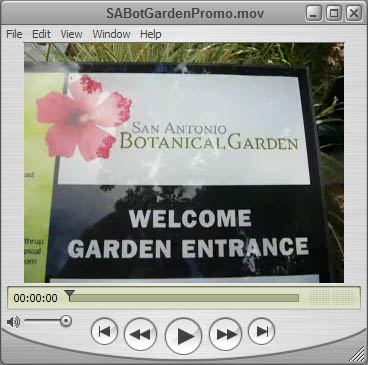 Video Description:
I was lost and unprepared for the hot Texas weather, but that didn't stop me from enjoying the garden's beauty. From the native Texas grassland areas to the indoor fern grottos, I filmed all that the San Antonio Botanical Garden had to offer.
Wander along the garden paths. Watch the birds fly past you and squawk at you from the trees. Smell the herbs and flowers in the garden for the blind. Breathe in the humid air in the fern grotto. Explore the historical homes of Texas' past. Chase down the golf cart. Can you keep up?
If you are missing the beautiful greenery that Texas has to offer, you can enjoy it every day with this video.
Previous: Fun Treadmill Workout From Ford Fitness Models
Next: How To Avoid Poison Oak

3 Responses to "Starling Fitness DVD: San Antonio Botanical Garden Walk"
iportion Says:
May 30th, 2007 at 2:06 pm

good luck with your new workout.

Cherilyn Says:
July 11th, 2007 at 10:09 am

As you follow the path through the park, each turn reveals a new delight for the eyes. And each time I run this DVD, I see something new! Love it!

Betsy Says:
June 29th, 2009 at 4:19 pm

I really enjoyed the park. It must be huge! Caught a glimpse of you recording in the window of one of the cabins. I like the sound of your feet make crunching on the rocky pathways–that's real life. They're beautiful gardens. I liked the Zen one a lot. Only one time did I get disoriented when you were filming around the herb gardens and there was no horizon line, but I loved it all and would certainly recommend it.
Leave a Reply
-