Being physically fit has its advantages. Being able to hike Yosemite Park and snap a ton of photos is one of them: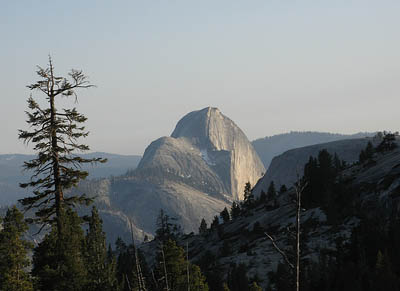 Yosemite Park was one of Ansel Adams' favorite photography sites and he has numerous photos of Half Dome. Seeing the same mountain from someone with a different eye is so refreshing.
Next time you're exercising and you feel bored with your routine, remember why you keep in shape. Being able to hike Yosemite Park is one of those benefits.
Previous: It's All A Mind Game
Next: Jim Carrey Gives Fitness Tips

2 Responses to "Photos from Yosemite Park"
Megan Says:
May 27th, 2007 at 9:12 am

Yosemite is beautiful & will always hold a special place in my heart! Half dome at Sunset is the best!

personal note: My husband proposed to me at Yosemite, at Glacier Point.

iportion Says:
May 27th, 2007 at 10:37 am

While I can't hike to yosemite park there is lots stuff I can do.

PS one of my fave childhood memories was visting yellow stone park.
Leave a Reply
-