I had an interesting comment on my entry about Pinkberry:

The FDA has cracked down on Pinkberry? Pinkberry isn't really frozen yogurt?! I might believe it, but the commenter didn't put a real name, they just put FDA in the name field. Additionally, the commenter didn't include a link to the FDA announcements which state EVERY single company they have served injunctions to. So, I did the research.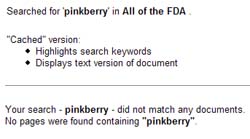 I searched the FDA website, but they have no mention of Pinkberry at all. The case was the same with the phrase "Red Mango" and "Ice Berry," two Korean companies that have similar products. Compared with Cortislim, with eight entries, Pinkberry's nose is clean. The FDA has NOT told Pinkberry to stop calling their product frozen yogurt.
I thought that maybe this is something that the local news programs had reported and I missed because I don't live in Los Angeles, so I did a search for Pinkberry and FDA. I came up with a lot of results. Here's one from Somah.com in the comments section:

Again, it's an anonymous poster saying the exact same thing as the commenter on my site. It even looks like a cut and paste job.
Here's another search result from Colleen Cuisine was in her comments section of her weblog:

Well, ANOTHER, anonymous post this time stating that the Yogurt Association had been involved. After a thorough search of the National Yogurt Association's website, there wasn't one mention of Pinkberry with even a tentative warning. A search for frozen yogurt turned up this comment:
No standard of identity exists for frozen yogurt products, but they too may contain live and active cultures.

In order for manufacturers to carry the seal, refrigerated yogurt products must contain at least 100 million cultures per gram at the time of manufacture, and frozen yogurt products must contain 10 million cultures per gram at the time of manufacture.
The National Yogurt Association has standards, but it doesn't look like they've announced anything against Pinkberry.
Wow, yet another, anonymous post with no proof. Can you really trust the word of someone who won't stand behind their words or back them up with proof? Can you trust them THREE times?
In fact, the ONLY mention of Pinkberry and FDA that wasn't the troll was this article from East West Magazine:
They said:
Compared to its heavier cousin ice cream, Pinkberry's frozen yogurt can be described as having "less calories and fat, but not healthier," says Sass, who compared Pinkberry's nutritional facts with FDA requirements for when a food can put the word "healthy" on its label. The froyo alone, Pinkberry's as well as frozen yogurt in general, does not have enough vitamins to be labeled as such, she says. But since Pinkberry is not being sold in stores, no food label is actually required and calling it "healthy" is not against FDA regulations.
So, it looks like Pinkberry is trying to follow the standards for the FDA's requirements for the word "healthy." East West Magazine doesn't have the troll on their comments because they require registration to log in.
It looks like someone is out to get Pinkberry. As of this date, the FDA hasn't said anything to Pinkberry about their frozen yogurt standing. If anyone wants to say something to the contrary, they need to back it up with proof.
Previous: Question of the Week: Home Gyms
Next: Gender-Different Sports Equipment

14 Responses to "Is Pinkberry Really Frozen Yogurt?"
Leave a Reply
-