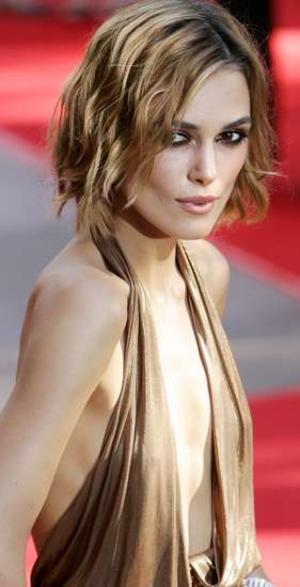 Keira Knightly has been fighting the tabloids. They have been writing articles about her body assuming that she has anorexia and she has even sued a few of them. Then she showed up to the premier of Pirate of the Caribbean in this dress and the rumors sparked again. One can understand why. She looks painfully thin in this dress.
A photograph is just one moment in time
The truth of the matter is, a photograph is just one moment in time. There have been times when I weighed less, but my photographs still made me look fat. There have been times when I weighed more and I looked fantastic. This photo of Keira Knightly is just one moment in time. She happened to be thin at the time and the dress revealed that. Was she thin the previous day? Yeah, but no one posted the photos of her schlepping around in a t-shirt and jeans that she probably wore that day because they weren't controversial enough.
It's really the dress, not her body that was so interesting
Because the dress was so revealing, the press jumped on it. If she had worn a different dress, she wouldn't have received so much attention. Anorexia is a very complicated disease and you cannot tell if someone has it just by their body type, just like you can't tell whether someone has bingeing problems just because they are fat. In fact, it's possible to be rather skinny and STILL have trouble with bingeing. Just calling someone anorexic because they are thin is just as discriminatory and hateful as calling someone lazy because they are fat.
Previous: I Can't Believe In The Thrifty Gene
Next: Bye Bye Trans Fats

7 Responses to "The Dress That Sparked The Rumor"
Leave a Reply
-