Sunday, I filmed another Starling Fitness walking video. I walked past Old Faithful and watched it go off like clockwork. I walked past a boardwalk full of small geyers and springs. I even climbed a mountain and looked over Old Faithful from the top.
The climbing part was hard and a surprising reminder that I need to get working on my endurance. See if you can hear me panting in this snippet from the video: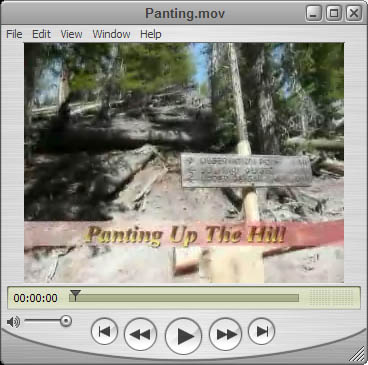 In the end, I don't think my panting is that distracting and I'll probably just leave it in the video. The tourists talking to each other while Old Faithful is showing its best, however, is another story…
Next time you think that you're not fit enough to tackle a hill or thin enough to go hiking, remember me panting and puffing my way up this hill. If I can do it, you can do it.
If you like this video, it will be ready for purchase in a few months. In the meantime, you can look at what is available right now here:
Yesterday, Mike and I saw a black bear in Yellowstone and I got a pretty good video of him:
Previous: Question of the Week: Favorite Vacation Exercise
Next: Lunch of the Future… 1999?

One Response to "Panting Up The Hill"
iportion Says:
May 1st, 2007 at 1:18 pm

That sounds like A GREAT walk. I visted Yellowstone as a child and loved it.
Leave a Reply
-