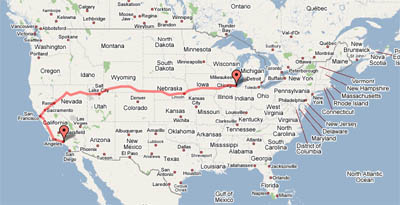 Chicago is long behind us on the Race Across the USA! We are on the home stretch to New York now! We are currently at 2605 miles, so we are very close to New York. Start spreading the news!
These are the cities we are going to see along the way:
Los Angeles, California – Starting Point
Sacramento, California – 384 miles
Salt Lake City, Utah – 1,036 miles
Omaha, Nebraska – 1,971 miles
Chicago, Illinois – 2,439 miles
New York, New York – 3,227 miles
You can see the full route in detail here:
Don't forget that there are prizes for the top 10 finishers:
1st place – Most miles run – Four DVD set of Starling Fitness walking videos: Swami's Beach, Sugarhouse, Moab and the as yet unreleased San Antonio Riverwalk.
2nd and 3rd place – Choice of three Starling Fitness DVDs.
4th and 5th place – Choice of two Starling Fitness DVDs.
6th through 10th place – Choice of one Starling Fitness DVD
The current Top Ten are here:
<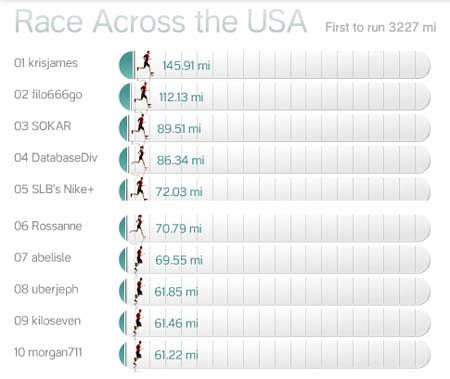 We are almost finished with this race, but we are doing another one some time in April. If you would like to be included, please go to this thread on the Nike+ Forum and I will include you in the invitation:
This race has been so much fun, so I'm excited for the next one. I haven't had one person guess where we are going to race next month. Here's another clue: Sacajawea.