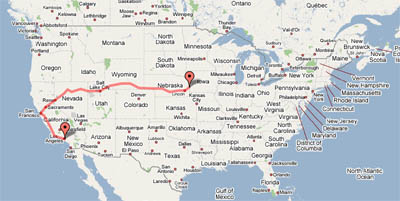 We just passed Omaha, Nebraska on the Race Across the USA! We didn't even stop for a break! At this rate, we'll be to Chicago in no time! The "Talk Trash" comments have turned hilarious. If you aren't running with us, you're missing out, so I'm sharing them with you!
Starling Fitness (3 days ago): 1612.63 miles! We've hit the 1/2 point in Nebraska!
krisjames (2 days ago): Man, that's alot of corn!
krisjames (yesterday): Are we there yet… Are we there yet… Are we there yet??
morgan711 (yesterday): goodworkkris
LauraMoncur (yesterday): Quiet down or we are staying at the Holiday Inn without a pool!
SOKAR (9 hours ago): yeah kris don't make us stop this car 😉
Starling Fitness (26 seconds ago): 2028.04 miles! We passed Omaha without stopping! You kids have been so good that we're staying at the hotel with the pool AND the slippery slide!
These are the cities we are going to see along the way:
Los Angeles, California – Starting Point
Sacramento, California – 384 miles
Salt Lake City, Utah – 1,036 miles
Omaha, Nebraska – 1,971 miles
Chicago, Illinois – 2,439 miles
New York, New York – 3,227 miles
You can see the full route in detail here:
Don't forget that there are prizes for the top 10 finishers:
1st place – Most miles run – Four DVD set of Starling Fitness walking videos: Swami's Beach, Sugarhouse, Moab and the as yet unreleased San Antonio Riverwalk.
2nd and 3rd place – Choice of three Starling Fitness DVDs.
4th and 5th place – Choice of two Starling Fitness DVDs.
6th through 10th place – Choice of one Starling Fitness DVD
The current Top Ten are here: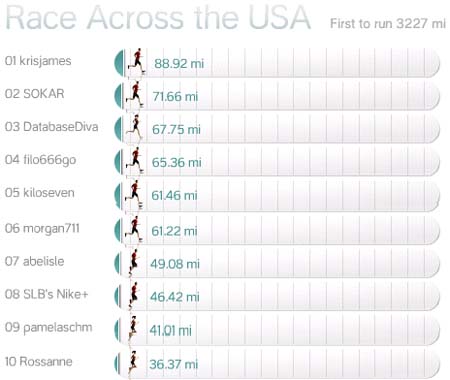 The race is over the halfway point, so we are no longer accepting any new runners. If you would like to run the next race, please leave a comment here and you will be invited:
I'm just going to give you a teaser for our next race: Louisiana Purchase. Anyone want to guess the route?
---
Since Nike's system isn't set up for a cooperative event like this, you will need to check here at Starling Fitness for progress and winners.
We reserve the right to limit participation in the challenge due to our time constraints or the limits of Nike's system.
This event is not sponsored by Nike or Apple. Starling Fitness will choose the winners based on total mileage. Our decisions are final.
Previous: Starling Fitness DVD: San Antonio Riverwalk
Next: Is Subway Better Than McDonald's?

Leave a Reply
-