The San Antonio Morning Riverwalk DVD is finished and ready for you! It is a little over 45 minutes of walking on the San Antonio Riverwalk on September 15, 2006. If the winter has been getting you down and you are wishing for greenery, this is the right video for you!
I'm offering this workout DVD for $5 plus shipping.
Order Starling Fitness Walking Videos Here
Here is a glimpse of what the walk will be like: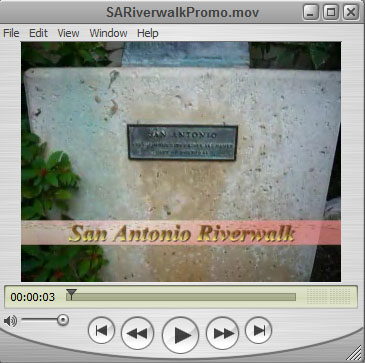 Video Description:
Last night, the riverwalk was packed with people, but this morning you have it all to yourself. Well, almost all to yourself. You pass people on the way to work and visiting convention goers. A couple of joggers run past you. Hurry, can you catch them?!
The pigeons and squirrels are cleaning up the frenzy of eating and enjoyment from the night before and the river workers are doing the same. Wave to them as they negotiate their boats past you. They might even wave back. The tourist boats are practicing as they pass you, unnoticed.
Enjoy one of San Antonio's favorite night spots during the quiet hours of the morning!
Previous: Comfort Food: Fennel Mashed Potatoes
Next: Race Across USA: Bye, bye, Omaha!

3 Responses to "Starling Fitness DVD: San Antonio Riverwalk"
iportion Says:
March 16th, 2007 at 9:54 am

Big congrats 🙂

Val

Cherilyn Says:
July 11th, 2007 at 10:13 am

What fun! Laura Moncur has created some of the best exercise DVDs that inspire me to keep walking! The visuals in this DVD keep me energized!

John Backham Says:
April 4th, 2008 at 8:43 am

This video is what brought me and my wife to San Antonio in the first place. It's truly a great inspiration. If you haven't been to San Antonio's Riverwalk you really should. As soon as the sun rise you have a beautiful quiet morning and when the sun goes down, the night fun begin.

The video truly describes it best, very recommended. John
Leave a Reply
-