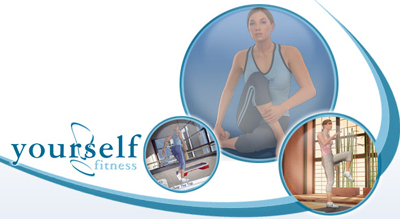 A special thank you to our regular commenter from iPortion for bringing this to my attention. Yourself ! Fitness seems to have gotten past whatever issues that were stalling them and are soon to be releasing a new product called Y!F Lifestyle.
We are working on the next Yourself!Fitness title called Y!F Lifestyle to be released on the new game consoles and the PC. Y!F Lifestyle has many of the new features that you asked us to create and we will be releasing the details for this new product soon!

Please stay tuned for more great fitness gaming products from your friends at responDESIGN and Yourself!Fitness.
Of course, my imagination goes all haywire when I hear an annoucement like this. They said that they will be releasing this on the new game consoles and the PC. Does that mean the Nintendo Wii? Can you imagine how fun that would be? They could sell the game with a weighted Wii controller that you have to move how Maya says. It would be an even better upper body workout!
I'm excited to see what Yourself ! Fitness has in store for us!
Previous: Question of the Week: How Can I Nurture Myself Without Food?
Next: Quackwatch Report on Amaze Rx

3 Responses to "Y!F Lifestyle Coming Soon"
iportion Says:
February 23rd, 2007 at 4:09 pm

I want this for PC like PC. I hear when all the problems started they were half way finished.

Antonio Islas Says:
November 6th, 2008 at 7:46 pm

Can't wait. I'm still using my xbox copy on my new X360.

Victoria Biggs Says:
February 11th, 2009 at 10:18 pm

I love this game!! Im still playing the PS2 title on my PS3! I cant wait for the new one on the PS3, its going tobe so awsome. Hopefully will incorporate the playstation eye. Oh pleeeaaasse!!!!
Leave a Reply
-