For some of us, we can't go back into our memory far enough to remember the first time we realized we were fat. We just always had been told we were fat. For others, weight gain is a recent thing. They grew up thin with no weight problems and the weight just crept on over the years.
What is your first fat memory?
Did you notice your body and realize you were overweight or did someone else point it out to you?
What did you think?
How did it all make you feel?
I vividly remember the first day that I realized I was fat. I was about four years old watching television in the living room at my grandma's house. My grandma and my mom were in the kitchen talking. I heard my name and started listening to what they were saying. My grandma started the conversation,
"I noticed that she has another roll on her stomach. We really need to do something about her."
My mom came to my defense,
"I'm not going to bug her about losing weight. She's only four years old."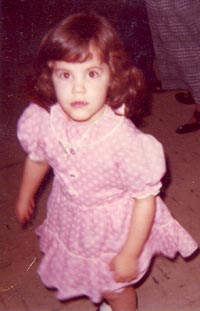 The one thing that was obvious is that both my mom and my grandma thought I was fat. That was the day that I decided I was fat. After looking at the pictures from my childhood, I have come to realize that I wasn't fat. My grandma was obsessed with weight: both her own and the people around her.
What if that is true about you? What if that person who pointed at you and called you fat was just lying and trying to hurt your feelings? We are all beautiful. Take some time today and try to remember the first time anyone called you fat. Write down how you felt and try to research to see if it was true or not. The first step toward getting the body you want is being truthful with yourself. Knowing the evolution of your health is the only way you're going to know the truth.
Previous: Limiting Your Diet Can Lead To Binges
Next: New Walking DVD: Moab Walk

6 Responses to "Question of the Week: What is your first fat memory?"
Leave a Reply
-