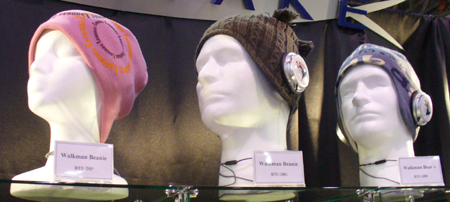 There are so many things at CES that you just can't get yet. These Bluetake Walkman Beanies are a good example. Aside from the unfashionable name, these hats would be great for exercising this winter, but they aren't available this winter. At least not on their website:
The idea of having my headphones and my hat all in one package is appealing to me because when I try to wear my headphones with my winter hat, things get all wonky. The hat moves the headphone away from my ear. The hat isn't quite big enough to cover my head with headphones. This sounds like a good product.
The advertising for it is a little interesting, though:
Quoting from them makes the words feel like gravel in my mouth:
"Feel like a Rock & Roll Hip Hop professional as soon as you wear this newly designed beanie."

"Even on campus, the ordinary color design keeps a low profile but still fashionable."

"With a simple shape, double-ring totem and invisible earphone, this simple style beanie makes you graceful."
How does it make me graceful? I'm pretty damn clumsy. If anything can make me graceful, I'm all for it.
You might not be able to purchase Walkman Beanies right now, but the idea is something that might help you. No matter how cold it is outside, there is a way to work around it and still be comfortable. Humans have lived in the elements for centuries. Don't hide away from your exercise routine just because it's cold outside. Make yourself a Walkman Beanie and get out there!
Previous: Austin, Texas Meetup
Next: Nike+iPod Starling Fitness Challenges

One Response to "CES 2007: Bluetake Walkman Beanies"
iportion Says:
January 23rd, 2007 at 1:50 pm

They look cute but the name is really needs work.
Leave a Reply
-