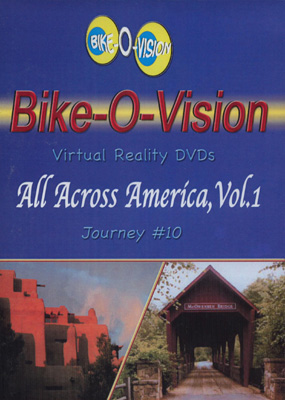 This just in from Jim in Tampa, Florida, Bike-O-Vision has created a series of DVDs that allow you to envision riding the world on your bike. They are very similar to my walking DVDs. You ride your exercise bike in front of your television and watch the beautiful scenery go by. It's like really being there, except you don't have to freeze in the cold or sweat it out in the humid heat.
These videos are exactly what I wanted to exist a year ago when I started filming my own walking videos. You can see them here:
It's great to see that other companies are doing the same thing. I haven't been able to record bicycle rides because the vibration is so intense that the video was unwatchable. I'm so glad that a professional company is getting this footage and making it available to all of us!
Thanks, Jim!
Previous: Enviga Review on Big Fat Blog
Next: Nike + Challenges

One Response to "Bike-O-Vision DVDs"
nato Says:
December 28th, 2006 at 11:49 pm

I tend to prefer action films while I'm biking…currently I'm watching the third in the Indiana Jones trilogy.
Leave a Reply
-