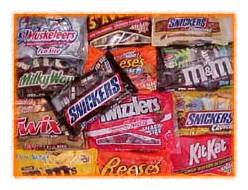 Even though you know that you live in a neighborhood that doesn't get many trick-or-treaters, you bought a few bags of candy. Not just normal candy, but your favorites. Now, you are sitting in a house full of individual servings of your favorite candy still sitting in a bowl, enticing you. I'm going to tell you what no other person would tell you.
Don't throw it away.
Yep, don't throw it away. If it was just candy that you didn't like, I would happily tell you to take it to work and leave it in the breakroom for the people who don't need to watch their weight, but because you bought your favorites "for the kids," I'm telling you to keep it.
You bought that candy for a reason and you need to figure out what that reason is.
Have you been restricting your diet so much that tiny bars of your favorite candy were irresistible?
If you have been, KEEP the candy. Figure out the calorie counts for a couple of servings a day and make sure you include them in your diet. Plan for 150-200 calories a day of your favorite candy. If you keep restricting this food from your diet, you'll end up with a HUGE binge that could end your dedication to eating healthy. Allowing yourself a small bit of your favorite candy every day is how to avoid the real binge.
Has it gone too far? Do you want to binge?
If you do, it's NOT about the candy. Find out what spurred this desire to binge. What are you avoiding? What have you been sweeping under the rug of your consciousness? Get it out and suddenly that candy won't have as much power over you.
Leftover Halloween candy is an amazing opportunity.
You have the chance to learn more about your own eating habits. Find out what you have been avoiding or make sure your diet hasn't become lifeless. Whatever the temptation, you can master it, either by allowing a small portion every day or working through the problems that make you turn to food.
Previous: How To NOT Die of Boredom on the Treadmill
Next: The Invisible Pedestrian Syndrome

2 Responses to "Leftover Halloween Candy"
iportion Says:
November 1st, 2006 at 2:37 pm

Some chocolate can be frozen. I have lots of candy left over. I chose gum because it's low calorie and I like it.

Ernie Says:
November 2nd, 2006 at 6:05 am

We actually bought candy that we don't like so much, so it was much easier to resist. (That's not why my wife bought it, but it ended well for me.)

And I tend to opt for tossing my leftover candy.
Leave a Reply
-