Wendy Bumgardener has a great article about how to use walking poles. It's a lot more complicated than it looks and there are several techniques that I didn't know about.
I have only used walking poles for stability on really steep trails. In fact, they weren't walking poles. We just used some big sticks that people coming down the trail gave us. "You're going to need these," they said, and they were right. We wouldn't have made it up the Na Pali Trail without them.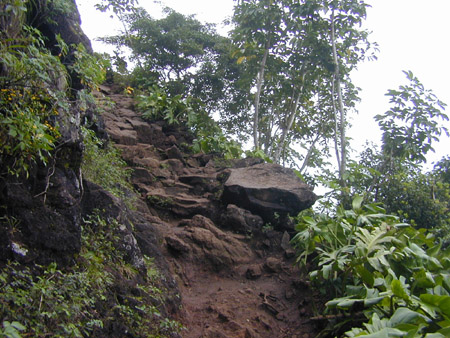 Previous: Nike+iPod Failure
Next: CES 2007: We're Going!

2 Responses to "How To Use Walking Poles"
Eh... not so much Says:
October 14th, 2006 at 8:29 am

Ooh, we sailed around the island and saw the Na Pali trail from a boat! I would love to do that hike. I love Hawaii. sigh

Ellie Dworak Says:
October 18th, 2006 at 11:12 am

I hiked that same trail last month and thank goodness for my walking poles, as I'm 6-months pregnant! But it was soooooo worth it, what a gorgeous spot!
Leave a Reply
-