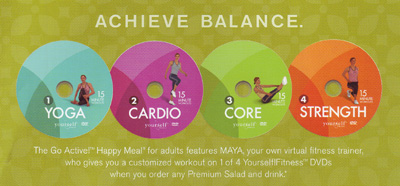 Laura,
I have the cardio and strength and love them. They are perfect for me to take when I am traveling. I would love to have the yoga and core but since they are no longer available at McDonalds, how can I get them?
Thanks,
Valerie
---
Valerie,
All of those workouts and more are available with Yourself! Fitness. It runs on PC, Playstation and Xbox. If you are using your DVDs on a laptop when you travel, it would be an easy transition to get the PC version. Here is a link to it on Amazon:
Good Luck,
Laura Moncur
Starling Fitness
---
Hi Laura,
Thanks for the information but I need the DVD's. Unfortunately, I don't have a lap top but do have a compact DVD player that I use when I travel. Any idea where to get the DVDs?
Thanks,
Valerie
---
Valerie,
You're in luck! It looks like people are selling them on eBay:
Good Luck,
Laura Moncur
---
Thank you, Laura!!!! I just bought what I needed on eBay!
Valerie
Previous: The Biggest Loser: The Show That Takes 30 Minutes to Weight 13 People
Next: Betsy Devine on Dutch Bicycles

15 Responses to "Ask Laura: McDonalds and Yourself! Fitness DVDs"
Leave a Reply
-