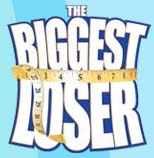 Over the summer, I forgot that The Biggest Loser is the show that takes 30 minutes to weigh 13 people. The repetition and the way they drag things out to last two hours really got to me this time because I was watching it live last night. I used to tape them on my VCR and watch them last year, so I could fast forward through the neverending weighing when things got too much. This time, I was stuck with watching every grueling minute.
Let me tell ya. I'll be taping it next time.
Oh yeah, I had also forgotten about the blatant commercials. Jello? Yep there it is. The girl who was voted off is eating Jello at home to "limit her carbs." One-A-Day vitamins was given a couple of minutes with Bob introducing them to his team. Plus, One-A-Day had paid for two commercials during the breaks: one for women and one for men.
More disturbing were the commercials (two) for surgical weight loss during the breaks. Here in Utah, they were for a local company that promotes gastric bypass surgery and lap band surgery quite heavily. Those surgeries go against everything taught on The Biggest Loser. I wonder if there were similar commercials in other areas.
On a lighter note, did anyone notice that everyone is wearing Timex watches? I'm a watch fanatic, so I notice those sorts of things. At first, I thought, "Hey, there's that HRM Timex that Mike has." The second time, I thought, "I've looked at that watch… almost bought it." The third time, I thought, "Oh, I get it. Timex gave everyone watches. Smooth…" I have an OLD Timex HRM watch (the first one they made) that is still going strong, so I really don't have a problem with them providing watches to everyone. Long after they have been voted off the show, those watches are going to be reading their heart rates and timing their workouts.
Will I still watch the show despite all the commercials and trumped up drama? Yeah, but next week, I'm fast forwarding through the weigh-in.
Previous: John Mayer and His Nike+
Next: Ask Laura: McDonalds and Yourself! Fitness DVDs

5 Responses to "The Biggest Loser: The Show That Takes 30 Minutes to Weight 13 People"
Leave a Reply
-