It's sexy, no? Maybe you can barely see it? Is all you're seeing is the shoe? Look on the shoelaces, there is a tiny black square. That is what I'm talking about. The almost invisible Marware Sensor+. It holds your Nike+ iPod sensor on your shoes in its tiny and compact pocket. Plus, it's only 13 bucks.
I have to admit that this is mighty tempting, even though I already have something that works with my Nike+. I have had a couple of people ask about "that thing on my shoe," but this sensor pocket is so small that I don't think anyone would even notice it.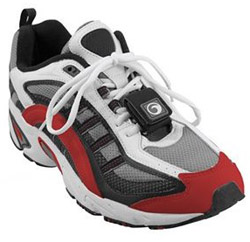 Still can't see it? Here is a bigger picture:
---
It feels like I've been talking about the Nike+ alot lately, and I have. It has been the only thing keeping me exercising lately. I don't know why it has been so motivating to me, but I have been really happy with it.
Previous: Ask Laura: Should I Buy a Nike+?
Next: Bullying At The Gym

2 Responses to "A New Sensor Holder For Your Nike+"
Otto Says:
September 21st, 2006 at 8:23 am

I have one, and it's great. 🙂

I reviewed it on my blog at http://www.theotto.org/psludge/2006/09/07/marware-sportsuit-sensor/

You might want to wait, though, they have a bundle of the sensor holder and a new armband with space for the receiver coming out. See http://www.marware.com/cgi-bin/WebObjects/Marware.woa/1/wa/selectedCategory?catalogCatID=227&wosid=qBAyeP4BCIfseu0GNXTfsg

Ernie Says:
September 21st, 2006 at 11:17 am

This is an interesting product. Laura, I thought you had decided that you were off the Nike products due to their sizing practices. I'm teasing, of course.

By the way, "we" decided not to get a treadmill because we don't have room. We have a 2000sf house and the kids have an almost 300sf playroom that I wanted a little bit of for the treadmill.

Ah well. I'll have to figure out some other way. I don't much like the idea of walking in the heat or dark, but I can be as adventurous as the next guy.

Maybe I'll get myself an iPod as a reward. Hmmm.
Leave a Reply
-