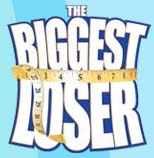 The end of summer has come up so quickly that I almost forgot that the new television season is coming up and with it, The Biggest Loser.
I was not a fan of this show at the beginning of the season last year, but this year, I'll be waiting at the edge of the couch to watch! This year they have contestants from every state in the United States. One person from each state makes for a lot of contestants, so I don't know if I'll be able to pick my favorites like I did last year. It will definitely be a change.

They have replaced Jillian Andersen Michaels with a blonde named Kim Lyons. A press release from NBC said that Jillian left of her own free will to pursue other interests. Jillian's website says NOTHING about it, so I guess I just have to believe them. I'm going to miss Jillian. I like her technique much better than the touchy feely stuff Bob does. I don't know anything about Kim Lyons except what NBC says, and that all sounds like a bunch of hype. I'm kind of bothered that they went with such a cutie. I know it's not fair to judge someone by their looks (isn't that what bothered me when I was fat?), but I have nothing but hype and her looks to judge her by. I can't wait to watch the show to see how it will be.
Last year, The Biggest Loser was SO motivating to me. Watching all those people give it their all really helped me to give it my all. They were exercising four hours a day. I could fit an hour a day into my schedule. I watched them all fall while I exercised. Sometimes I'd watch the episode two or three times a week. I am really looking forward to seeing this season's show!
Via: Season 3 of "Biggest Loser" features contestant from each state – That's Fit
Previous: PostSecret: Tally
Next: Career Sabatoge Via Donuts

20 Responses to "The Biggest Loser Is Coming Back!"
Leave a Reply
-