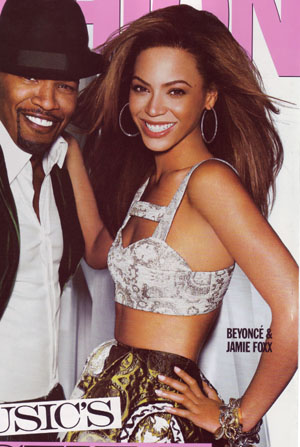 My SELF magazine came with a supplement this month called Fashion Rocks. I pulled it out and walked to the recycle bin (those supplement things are ALL advertisment, no point reading it), but the girl on the cover caught my eye. The waif standing next to Jamie Foxx was Beyonce Knowles.
Beyonce was the girl who was happy to have "a little junk in her trunk." She was never fat and her bottom was the envy of women all across the nation. Now, she's just another stick with arms so skinny they look like teenaged boy arms.
How did she do it?
Apparently, she is touting the Lemon Juice and Maple Syrup Diet.
What few people are quoting is the side effect of a fast such as this. Beyonce lost the weight for a movie role. Here is her account of her eating after the movie was finished:
"At the wrap party the day after filming they had these cupcakes and I ate about twelve."

"After that I ate waffles, fried chicken, cheeseburgers, french fries, everything I could find."

"That was the best time of my life. I've gained twelve pounds."
Don't be fooled by these fad diets. They do make you lose weight because of the calorie deficit, but the risk of bingeing afterward is so great that it's not worth it. Choose a healthy diet with a moderate calorie deficit and you will lose the weight AND keep it off.
Previous: You'll Gain It Back
Next: Question of the Week: How To Exercise AND Have Fun

7 Responses to "How Beyonce Knowles Got So Skinny"
-