My Goal Disappeared
When I heard about the Nike+iPod and how it synced with an online system, I was bugged. I was worried that they might charge me a monthly fee to access my data. The idea of having to be online in order to look at my running data also bothered me. I didn't even think about flaky programming.
Last week, Nike+ updated the Goals section of their website so that it tells you how you can earn trophies and ribbons on their site. Sure, that's great. I liked to know that there are other ways to compete, but when they did the update, they lost all my goal information.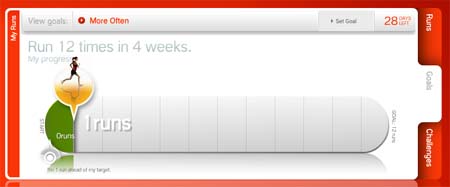 I had logged on to see how far along I was on my goal to run more often and it was gone. Sure, I could create a new one and I was only one week into the goal, but it was depressing to start again. It was as if those other runs didn't mean anything to Nike. They just wiped my progress on that goal without even warning me.
That's why I hate online software. Companies are able to make changes without notification and they can wipe out my data with one blow. I would much prefer a software program on my computer that does the same thing. I like being able to share it online, but I was really bothered when I lost my goal and all the progress that I had made.
Leaderboards
I found another section on the website called Leaderboards that is pretty cool. It is a list of all the people running with Nike+ and rates them based on distance, duration, fastest 5K and fastest 10K.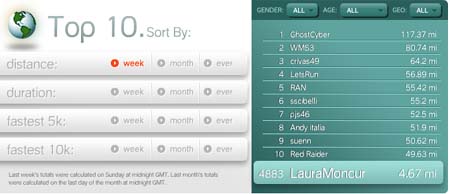 You would think that it's totally depressing to be number 4883 on distance, but I like to see where I am and to see if I can get higher on the list. I would like to know 4883 out of how many people total. 4883 out of 4883 is not so good. 4883 out of 10,000 is great! Even if I'm dead last, though, I like to know that I can run a little more to get a little higher on the boards.
Something must be wrong with them though. How could Ghost Cyber run for 42 hours 44 minutes and 08 seconds? It must be a mistake or something. I'm sure there are ways to fool the system, but I don't care. As long as I'm able to get from 4883 to 4880 and beyond, I'm happy.
Mileage
I've heard some complaints from other people that it doesn't record the correct mileage. It's true. The Nike+ isn't a GPS system. It can't tell precisely where you are running and calculate the mileage perfectly. All it can do is measure the speed at which your foot is moving.
Using the Google Pedometer, I have calculated the mileage for all my runs and the Nike+ has been within .02 to .05 miles of accuracy on every one. It's not perfect, but it's close enough for me. The best part is that I know while I'm on the run approximately how far I've gone instead of having to get online when I get back and calculate it. I can't wait to run with the Nike+ on a trip.
Two Week Evaluation:
Despite software problems and minor mileage inaccurancies, I am still loving the Nike+. It has gotten me back on the road running. After three years of treadmill running, it's so invigorating to be running outside again and it's all due to the Nike+. It's like a treadmill for the outdoors!
Previous: Nike+ Workout with The Crystal Method
Next: Write Down Everything You Eat

3 Responses to "Nike+ After Two Weeks"
www.iportion.com Says:
August 9th, 2006 at 11:29 am

I'd hate to lose all my hard work and goals I set

Thomas Stojanowski Says:
August 16th, 2006 at 2:26 pm

Hey there was a thread over on runpl.us that mentioned a fix on your data being wiped out and being able to reload it. Either way check out the site to join competitions and what not.

RunningTracker Says:
September 7th, 2008 at 10:17 am

I developed a free tool called Running Tracker. It permits to analyze and compare your workouts: http://runningtracker.tuxfamily.org/blog
Leave a Reply
-