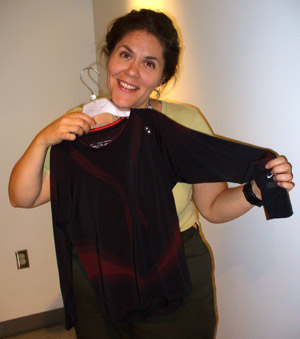 With all the gushing I've done about the Nike+iPod, you might think I am in love with Nike. Quite frankly, I was a little bit. The Nike+ has gotten my butt out the door for a couple of months now. When I walked into the Nike Store in Las Vegas, I was a fan.
I walked out a hater, though.
You're looking at the reason why. I have been in love with the Nike+, so I thought I would look at some of their overpriced iPod clothing and see if there was anything that I would be willing to plunk down my money for. The commercial for the Nike+ had the guy wearing a shirt where the iPod fit into the sleeve. I liked that shirt so much that I was willing to pay the 70 bucks for it. Unfortunately, Nike lost a sale.
The shirt that I'm holding up is an XL. By my estimation, it is about the same size as an extra-small in other brands, but Nike thinks that this is an extra-large. The not-quite-so helpful service girl said, "Try it on. They are stretchy." I took the XL into the dressing room, but it was so tight that the bottom seam rolled up to my bra. It was a painful reminder of what it felt to weigh 235.
At that weight, I couldn't fit into any exercise clothes except one brand from K-Mart. I was so grateful that they made exercise clothes in my size that I bought two weeks worth of pants and shirts. I bought the entire inventory at three K-Marts.
Nike just doesn't get it.
The fact that they don't carry a size for me when I'm fifty pounds lighter, just tells me that they aren't an athletic clothing company. They're a fashion clothing company just like Kenneth Cole. They don't want "fatties" like me wearing their clothes and giving them a bad name.
Despite the look on my face, I was near tears when I had Mike click this picture of me. Despite all the weight I've lost, I'm still not thin enough for Nike. Well, they can take their 70-dollar shirts and stuff 'em. I'm going to give my money to a company that deserves it.
It makes me want to throw my Nike+ in the garbage.