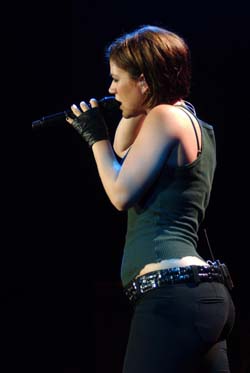 The gossip blogs are all a'twitter about Kelly Clarkson. Vitamin Water was in negotiations with her for her own flavor and promotion deal. The catch was she needed to lose some weight in order to seal the deal. This is one of the pictures held up as "proof" that she needs to lose weight.
Does anyone outside of the crazy entertainment industry think that Kelly Clarkson is fat?!
From this point, I REFUSE to drink Vitamin Water and I suggest a similar boycott anyone who is sick of the skeletal standards of beauty that the entertainment industry is so fond of.
Via: Thin or Else By Richard Johnson, Paula Froelich and Chris Wilson – New York Post