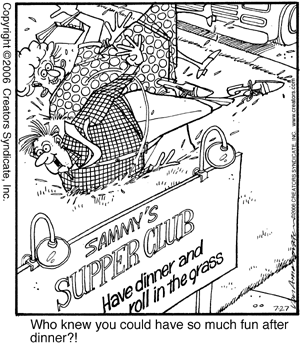 I want to go to Sammy's Supper Club! Not only do I get to eat; I get a little exercise afterwards!
I love Ballard Street comics. Jerry Van Amerongen has such an inventive imagination. I would have never thought about rolling around in the grass after a meal. It sounds like such a fun thing to do and the people in his comics are enjoying it so much.
Next time you enjoy a meal, remember this couple and think of something active that would be fun after dinner.
Click here to see this and other Ballard Street comics:
Previous: The Unapologetic BK Quad Stacker
Next: BRAVO Has A New Show: Work Out

Leave a Reply
-